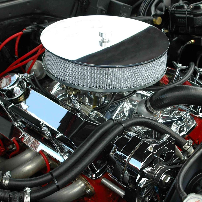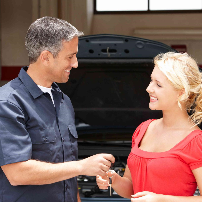 Frequently Asked Questions.
When it comes to automobiles, it's easy to get confused. As a courtesy to you, we have compiled a list of frequently asked questions with corresponding answers. Questions range from our location and driving

directions

to ways you can tell if your vehicle isn't running efficiently. Please review the

list

and if you have any additional questions that are not listed here, feel free to send us an email and we will do our best to respond within a timely manner. We appreciate your business and interest in PRISM Automotive Service.
We are located approximately 2 ½ miles west of the square in downtown Cumming. Our address is 1694 Chamblee Gap Road, Cumming, Georgia 30040. Check out our contact page to see a Google Map. You can obtain directions after you enter your starting address

.
What Type Of Work Do You Do?
Please refer to services page of our website. You will see that we perform repairs and services ranging from oil changes to engine replacement and most everything else in

between.
What Are Your Hours Of Operation?
We are open Monday through Friday from 8:00 AM to 6:00 PM. If you need to drop your vehicle off before or after normal business hours, for your convenience, we have a key drop by the front door of the business.
Do You Provide Estimates?
We always provide estimates for your vehicle. We can discuss them over the phone or send you an email through our website. However, to provide the most accurate estimate, the vehicle should be brought in and have a visual inspection performed

.
Do I Have To Make An Appointment?
For your convenience, we recommend that you make an appointment. That way, we can set enough time aside during the day to perform the repairs and return your vehicle in the shortest period of time. We pride ourselves in completing the vast majority of our vehicles in one day. However, you are always welcome to drop in!
Can I Wait For My Vehicle While It Is Being Worked On?
There are many services and repairs that we can perform while you wait. To be sure, please call ahead and discuss the possibility of waiting while your work is done.
What Warranties Do You Offer?
Our typical warranty covers parts for 12 months or 12000 miles, whichever occurs first. Used parts are covered for 90 days. Labor warranty extends no further than 12 months or 12000 miles but varies according to the type of repair and type of part used. We can provide that information during the estimating process of your repair.
What Do You Charge To Diagnose A Vehicle And Determine What Is Wrong With It?
We currently have diagnostic charges up to $89.95. (subject to change). If you decide for us to proceed with the repairs, we will do all we can to absorb the diagnostic charge into the repair cost of the vehicle.
Do You Perform Vehicle Inspections Prior To Purchase?
We can do a rather extensive inspection of vehicles prior to

purchase;

in fact, we highly recommend it. The current fee for this service is $75. A check list is provided to you with an estimate of any needed repairs. The inspection process takes between 1 and 2 hours.
How Often Should I Have My Oil Changed?
The typical oil change interval is 3000 miles. However, manufacturers have extended these intervals to 5 and 10 thousand miles. Our thoughts go along these lines; we can place the interval at any mileage. But, please remember that there are things that need to be checked periodically. Tire pressure, oil and transmission fluid levels are just a few things that can be overlooked during longer service intervals. Also, take into consideration the relatively minor cost of the oil change. It is during this service that we check tire pressure and fluid levels. We can also take a quick look over the vehicle in order to spot any signs of possible trouble.
Yes, we sell tires. We mount and balance tires and also do front-end alignments. Though we do not stock tires, we can get tires ordered and delivered usually during the same day. Or, we can order the tires and schedule an appointment time for you vehicle so they can be mounted on your vehicle.
Are Your Technicians Certified?
Our technicians maintain ASE certifications in various specialties.
Hours of Operation: Mon - Fri, 8:00 AM to 6:00 PM